380 RPM CEILING FAN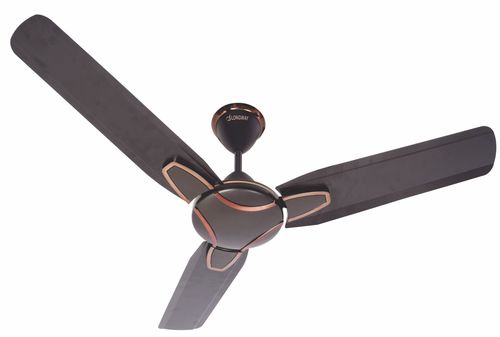 380 RPM CEILING FAN
Price And Quantity
Product Specifications
Product Description
Aluminum Body & Blades
The sleek blades with metallic finish and elegant brown colour make this ceiling fan an excellent example of style and utility. The three wide fans blades of 121.92 cm are designed to cover wide area in any room that you install it into. The light in weight blades is ideal for wider area coverage ensuring better air circulation in every corner of your room. The well designed aero dynamic blades and body of this ceiling fan also ensures no sound while working which adds to its utility and enables you to install it in homes and offices.

Wide Air Delivery
Equipped with an excellent sweep of 1200 mm, the Activa Ceiling Fan ensures wider air delivery. Working with the maximum motor speed of 310 rpm, this ceiling fan is sure to impress your with effective cooling. With this well designed ceiling fan you do not have to sit on the couch under it for cool air anymore as it covers wider area with long and sleek blades. This ceiling fan is also easy to clean and maintain. You can control the speed of this fan with regulator provided on the switch board.
Power Consumption
The Activa Ceiling Fan runs with 60 watts of power consumption and comes with 5 Star rating for energy efficiency which is ideal for modern energy saving homes. Supporting maximum current of 0.22 amps, this ceiling fan is both elegant and efficient.
Other Important Features
Impressive engineering and sleek metallic body makes the Activa Ceiling Fan makes it a perfect pick for every home. The die cast metal body further adds to the quality and efficiency of this ceiling fan by allowing the colour and look of the fan to last longer. This ornate ceiling fan adds beauty and elegance to your home as well as complements the decor of your house. This fan is compatible with inverters and is insulated with E grade varnish which protects it from shock and power fluctuations.